At Tiger of Sweden, we want to make sustainability a priority in relation to every single piece we create. All products start with the raw materials used to create fabrics – in other words: the fibres. We have designed a 'Preferred Fibre Standard' that enables our product team to make sustainable decisions when choosing materials. The preferred categories on the list include recycled fibres, organic fibres and fibres from certified sources. Our short-term goal is to have 50% of all the fibres produced for our collections coming from our preferred fibre list by 2023. Due to the long lead times in the production phase, we expect to see the first significant shifts during 2020.

The Preferred Fibre Standard is developed as a guiding tool in sourcing materials and fibres, as well as in measuring our progress towards creating increasingly sustainable products. It is also an interactive tool that will be updated when necessary, for us to be up to date with the latest research and innovations in relation to fibres and production methods. As stated in our current focus areas and actions, we believe that the quality level always needs to be the top priority. Lowering the quality-level of a garment is to us contradicting on our entire journey towards becoming more sustainable; this, as an unsold, un-used or a low-quality garment is a complete waste of resources. Thus, we always have quality aspects top of mind when sourcing preferred fibres. We want our consumers to cherish the garments that we have created in the same way that we do. Find out more information about our Preferred Fibre Standard here.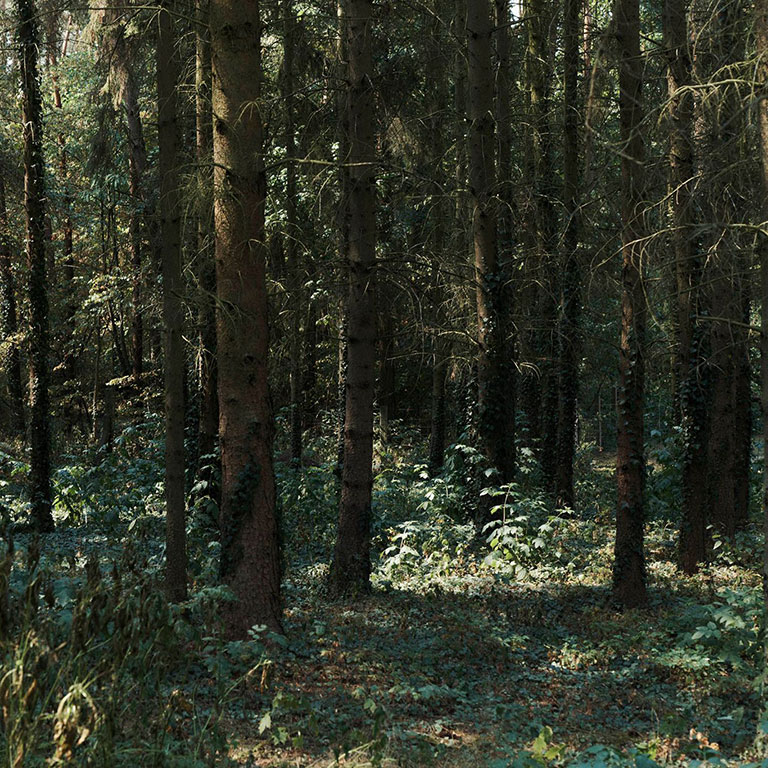 TIGER STANDARD
1) Best in class Fibres:
Natural fibres that are recycled, fast renewing and/or biodegradable as well as responsible human-made innovations.

2) Better Fibres:
Synthetic and human-made fibres that are recycled, certified or traceable and the better fibre choices of today – in respect of animal rights and environmental impact.

3) Conventional Fibres:
Traditional fibres where better alternative options are available; we aim to phase these out by latest 2030.

4) Fibres being out phased:
Fibres we aim to urgently out phase due to high process chemical usage, water usage and lack of control over animal welfare.
FIBRES WE USE

The generic way to divide the fibre groups is by natural fibres and manufactured fibres. Natural fibres consist of animal and cellulosic. Manufactured fibres consist of human-made cellulosic, synthetic fibres and others.

Animal fibres are hairs, feathers or material that can be produced from animals. Cellulosic fibres are different materials from plants, that can be divided into fibres extracted from seeds, stems and leaves. Human-made cellulosic fibres come from natural fibres re-made by processing into similar ways as synthetic fibres. Synthetic fibres are mostly made from fossil fuels, but there are options sourced from renewable materials like corn and seed oils.


ANIMAL FIBRES
Mohair Wool comes from the Angora goat (not to be confused with the angora fibre - which origins from a rabbit). The fibre is very soft and has a high lustre; it is also durable and exceptionally resilient. The mohair fibres take on dying very well, which is why you get vibrant colours on products made in Mohair wool. The long curly fibres are used to give a bulky and shiny finish to knits and cloths. At Tiger of Sweden, we use mohair to our most delicate high-quality woven fabrics such as suits and knitwear.
Traceable Mohair To be able to ensure that the Mohair in our products is coming from audited farms we are receiving lot numbers of our orders and can verify that the farms have been audits by the Mohair South Africa organization. This helps to ensure the animal welfare strategy as well as the traceability of the supply chain.
Alpaca is a natural fibre with long, lustrous and soft characteristics. It is similar to wool, yet it's warmer, softer and without the lanolin which makes alpaca fibre hypoallergenic but without the water-resistant properties that wool has. At Tiger of Sweden, we use Alpaca in our knits and accessories, for example.
Cashmere is the finest and softest wool fibre on the market. The fibres are combed from the goat as the animal moults and used for delicate knitted garments, and the coarser fibres are used in heavier garments — the biggest supply of cashmere origins from Mongolia and Inner Mongolia in China.Due to the highly increasing demand of cashmere fibre globally and the environmental stress on land degradation and overgrazing, as well as the difficulties in certifying the supply chain of responsible cashmere: we at Tiger of Sweden have decided to stop sourcing cashmere for the time being. This will be visible from the fall 2020 and is under investigation where and how we can set up our supply chain for responsible sourcing of this fibre.
Recycled Cashmere is made from leftover wool from textile production or old garments that have been ripped apart. The fibres are shorter than traditional virgin cashmere and therefore it needs to be blended with conventional wool or other material, to retain its quality. To use recycled cashmere minimizes the pressure on land degradation and less water, energy and water is used by reusing already produced fibres. At Tiger of Sweden, we will use recycled cashmere mainly in our knitted sweaters.
Yak comes from the animal Yak; which is a long-haired bovine, mainly found in the Himalayan region. The fibre has a high loft, softness and elegant shine; it is a natural fibre with all those characteristics of having high breathability and isolation. We see the yak fibre as a complement to the cashmere fibre.
Silk is a natural filament fibre, which means that the thread is continuous and not built up of shorter filaments, the cocoon of the silkworm creates the silk filament. The fibre of silk absorbs moisture well, it is strong when dry but loses its strength when wet. Therefore it is important to have this in mind when washing and caring for your silk products. The characteristics of silk are of fine lustrous and very exclusive. At Tiger of Sweden, we use silk mainly for our premium accessories, such as scarfs, ties and handkerchiefs.
Organic silk production ensures that the mulberry bushes that the silkworms are feeding on are organically cultivated, which of course is very beneficial for the environment. Today only a small part of the cultivated silk is certified organic.
Down as a fibre comes from geese and duck and is the layer of fine feathers found under the tougher exterior feathers. Down is not a major fibre for us at Tiger of Sweden, which means we rarely use down. When we use down, we make sure to source ethical down through either the Responsible Down Standard (RDS) or by using recycled down. The RDS certificate ensures that the down is sourced ethically in regard to the five animal freedom act.
Fake down An alternative to down regarding animal welfare is to use synthetic fibres. If synthetic fibre is used, it is essential to ensure that the raw material is coming from a recycled origin to minimize the use of new resources.
Recycled down To reuse material is the best way to take advantage of the earth's resources to the most significant extent. Recycled down is, therefore, our best in class alternative for an isolation fibre.

Wool The wool fibre comes from sheep and is one of our most used fibres. Wool is a natural fibre creating garments with long-lasting properties if taken care of properly. Wool is naturally water-resistant due to the wool grease 'lanolin' and also do not attract odours, that is why you do not have to wash your wool sweaters as often as some other materials, which adds to our love of this fibre. The wool fibre comes in a wide variety of qualities and appearances as well as several different origins and types of fibres. At Tiger of Sweden, we use wool to everything from our most delicate high-quality woven fabrics – from suits to fine knitted sweaters and warming accessories as scarfs hats and gloves.
RWS Wool RWS stands for 'Responsible wool standard', which is an independent voluntary certification ensuring that the sheep are treated with respect to their Five Freedoms. 1. Freedom from hunger or thirst by ready access to fresh water and a diet to maintain full health and vigour 2. Freedom from discomfort by providing an appropriate environment including shelter and a comfortable resting area 3. Freedom from pain, injury or disease by prevention or rapid diagnosis and treatment 4. Freedom to express (most) normal behaviour by providing sufficient space, proper facilities and company of the animal's kind 5. Freedom from fear and distress by ensuring conditions and treatment which avoid mental suffering It also ensures best practices in the management and protection of the land. Through the processing stages, the certification guarantees that wool from certified farms is properly identified and tracked.
Organic wool Certified organic wool controls the chemical use, feedstock, veterinary inputs, as well as certified animal welfare systems in place. The certified organic wool is about only 1% of the market of wool.
ZQ Wool The ZQ certification of wool ensures that the five animal freedom act is ensured; no mulesing is occurring as well as no international animal transportation. Also ZQ wool is traceable back to the farm.
Recycled Wool is made from leftover wool from textile production or old garments that have been ripped apart. The fibres are shorter than traditional virgin wool, and therefore it needs to be blended with conventional wool or other material to retain its quality. By using recycled wool, you take care of existing material, by that using less water, energy and water are used.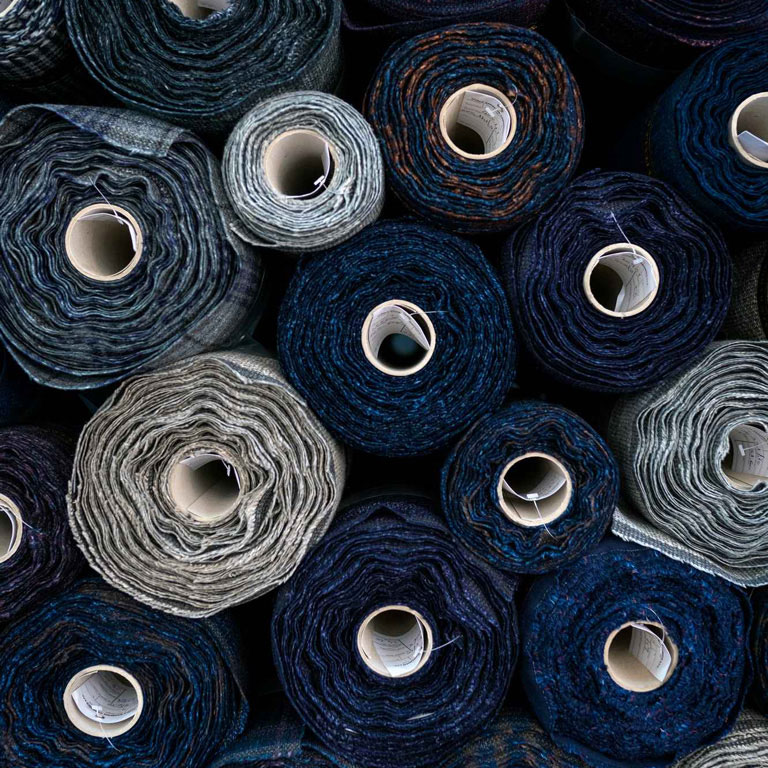 CELLULOSIC FIBRES
Cotton is and has been until just a few years ago – the most used fibre on the market. With its exceptional features of being comfortable, absorbent and durable, it has been the essential fibre over the years. Cotton is a seed fibre with wide variations and is used in different versions in almost all of our product groups. We mainly use cotton for producing our denim and shirts. At Tiger of Sweden, we are committed to source at least 50 % responsible cotton by 2023. With responsible cotton, we include BC, Organic and Recycled cotton.
Organic cotton ensures that the raw material of the fibre is produced with reduced environmental impact by growing cotton without artificial fertilizers, pesticides or genetically modified seeds (GMO).
Recycled cotton is made from leftover cotton from textile production or recycled garments that have been ripped apart. By recycling cotton, you take advantage of reusing already produced raw material.
BC cotton The Better Cotton (BC) is a global non-profit organization that supports the rapid change of cotton production. BC exists to make global cotton production better for the people who produce it, better for the environment it grows in and better for the sector's future. BC aims to transform cotton production worldwide by developing Better Cotton as a sustainable mainstream commodity.
To achieve this mission, BC works with a diverse range of stakeholders across the cotton supply chain to promote measurable and continuing improvements for the environment, farming communities and the economies of cotton-producing areas.
Better Cotton is sourced via a system of mass balance which means it is mixed with conventional cotton in the standard supply chain of cotton. This does not require segregation of Better Cotton in the supply chain has been a key factor to be able to increase the supply of Better Cotton over recent years. By using this method, Better Cotton is not traceable from fibre to a garment. It is a production method changing conventional practices to the better. Similar to the way of purchasing green energy.
Linen is produced from the flax fibre, which is a cellulose fibre origin from stems. The flax fibre has excellent strength and comfort, although it creates wrinkles very easily – which is a part of the characteristics of the fabric. It also wicks moisture quickly and has a feature of feeling cool on the skin. To ensure the sustainable properties of the fabric, you need to control the retting process of the stem fibre. To steed up the process of retting the fibre an alternative is to add chemicals in the process, but by using old techniques without chemicals has, of course, less impact on the environment. The linen we rank as a 'Better fibre' is coming from naturally retted or organic fibres. At Tiger of Sweden, we use linen mainly in summer tailoring.
Organic linen Certified organic linen fabric has been grown without harmful pesticides and retted by natural retting processes.
Jute is a fibre similar to flax; the stems are softened and produced into fibres. Jute is rather delicate due to the brittle characteristics and not being water-resistant. Is has a coarser hand with a beautiful natural appearance. It is for us a better fibre since it is rapidly growing with less resources than other cellulosic fibres. At Tiger of Sweden, we use jute fibres mainly in our accessories.
Ramie is made from the stalks of the Chinese Nettle plant. It is a strong, durable and highly absorbent fibre, and the fabric is even more absorbent than cotton. Ramie has good sustainable traits since it is rapidly growing on less resources than other cellulosic fibres. At the moment we don't use Ramie in our collections, but due to the benefits in strength, absorbency, look, and environmental advantages, we see great potential for introducing it as an alternative similar to linen fabric.
Straw is an agricultural by-product consisting of the dry stalks of cereal plants after the grain and chaff have been removed. Woven straw fabric is very delicate and has a low impact on the environment. At Tiger of Sweden, we use straw fibres mainly for making hats.
Hemp is a stem fibre with similar features as flax. It has been used mainly for coarser products since it is one of the most durable fibres - also when wet. The plants grow quickly in temperate climates with minimal rainfall, it naturally reduces pests, so no pesticides are needed, and it returns 60-70% of the nutrients it takes from the soil which makes hemp to one of the most environmentally friendly fabrics currently available.
HUMAN-MADE CELULOSICS FIBRES
Viscose is a regenerated fibre made from cellulose base. Although this is an excellent fibre option, the process to produce viscose is heavy intensive on chemicals. The characteristic of viscose is shiny with good drapability, similar to silk. We are currently working on shifting the use of viscose to similar human-made alternatives with more sustainable properties.
Lyocell is a regenerated fibre, originated from cellulosic mass from eucalyptus wood, which grows rapidly without the need for artificial irrigation or pesticides. A benefit of lyocell is that the chemicals used in the production process are recovered with more than 99 %, and they can be reused. The characteristics of the lyocell fibres are high strength, excellent moisture absorption, gentle touch and possibility to create vibrant colours in fabrics. At Tiger of Sweden, we use lyocell in a range of products such as light woven shirts and dresses.
Triacetate is a cellulose-based fibre coming from certified sourced forestry. We are sourcing our Triacetate fibre from the Japanese supplier Mitsubishi. They have developed the regeneration process using less energy and less amounts of chemicals in a closed-loop system, which is why we have ranked this fibre as a responsible alternative, and a good option to viscose. At Tiger of Sweden we use Triacetate in blouses, blazers and trousers.
Cupro is a cellulose-based regenerated fibre using copper to make the dissolving mass similar to viscose. The cupro process uses cotton linter as cellulose base – which is not possible to be taken care of in the cotton production. The Cupro fibre is slightly stronger than the viscose fibre but with similar characteristics. At Tiger of Sweden, we mainly use cupro in women's blouses.
TENCEL ™ Lyocell with REFIBRA ™ technology The REFIBRA™ technology is the fibre company Lenzing's way to include cotton waste into the lyocell process to create a virgin TENCEL™ fibre. By using already produced materials as a raw source and mixing this with a part of virgin material, they are on the way of closing the loop of textile production. That is why we have rated this as todays best in class fibre.
Modal is a cellulose-based regenerated fibre made by wood pulp from beech trees. The process of producing the fibre is similar to the viscose process, but the fibre chemistry is made longer that's why modal attain a stronger fabric. The fabrics are often very soft and have a high wet strength, which often makes modal fabrics possible to be machine washable without shrinking. At Tiger of Sweden, we sometimes use modal in shirts and blouses.
Acetate Cellulose acetate is a human-made cellulosic fibre derived from wood pulp. The fibre has a good lustre and nice drapability and is often used for linings and as an alternative to the silk fabric. To ensure the origin is set, we prefer to use traceable acetate as a better fibre source. At Tiger of Sweden, we use acetate sometimes in dresses and blouses.
LENZING ™ ECOVERO™ Viscose is the viscose fibre produced by supplier Lenzing, generating less Co2 emissions and less water use than generic viscose. The fibre is produced using pulp, which is derived from renewable resources of wood as raw material. Lenzing purchases wood and pulp derived from certified and responsibly managed forests.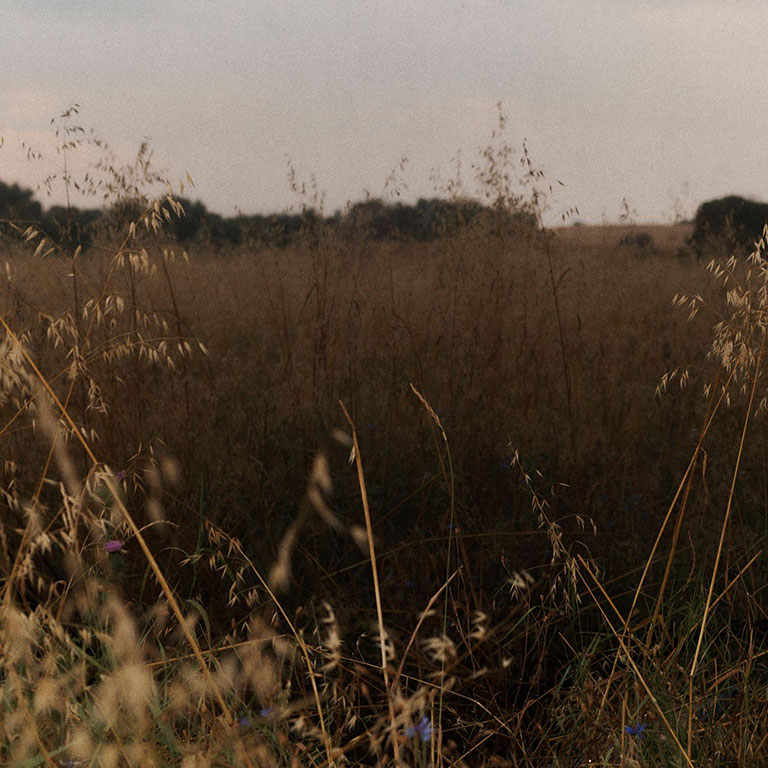 SYNTHETIC FIBERS
Polyester Next to cotton is polyester, the most used fibre in the textile industry. Traditional polyester is made from a chemical reaction between fossil fuel, petroleum, air and water that results in plastic polymer, which is melted into fibres. This fibre is durable, crinkle resistant, easy to clean and dries quickly. Due to the high strength of polyester, it can increase the quality level of other fibre-mixes in fabrics. The manufacturing process requires a lot of energy and a high carbon footprint. It is a non-degradable fibre, and the production process leaves toxic by-products. By saying that, virgin polyester is not a sustainable material; on the other hand, it's one of the fibres which is easiest to recycle. At Tiger of Sweden, our goal is to exchange all the virgin polyester we use to recycled alternatives by latest 2030. Today we use polyester fibre mainly in outerwear, linings and mixtures in fabrics.
Recycled polyester Unlike virgin polyester, recycled polyester is made from PET (Polyethylene terephthalate). The source comes from plastic bottles that have been de-polymerized and re-polymerized, which means that clear PET-bottles has been ripped apart and melted into new fibres. By recycling the polyester in PET bottles, the raw fibre source gets a longer life span than virgin polyester. To reuse a material already produced is always a better alternative than to use a virgin material.
Polyamide Polyamide is similar to polyester, a manufactured fibre generated from a chemical process. Both polyester and polyamide are durable, but polyamide has the highest resistance of all fibres and is very stretchy and light. At Tiger of Sweden, we use polyamide mainly in outerwear and swimwear.
Recycled polyamide Recycled polyamide is recycled from waste. The raw material source can be from old fishnets and waste from the manufacturing industry, which makes recycled polyamide to a more sustainable option.
Acrylic The acrylic fibre is a human-made synthetic fibre with heavily chemical intense processing. The fibre is developed to have wool like aesthetics and high durability. Due to the harmful emissions from the fibre processing, we are out phasing the use of acrylic in our collections, and they will be 100% out phased by latest 2030.
Elastane Elastane is a petroleum-based fibre made to have properties of high resilience and elasticity, and it is often mixed with other natural-based fibres to prolong the life of garments and increase the stretch in garments, for example denim.
Roica EF Roica EF is the brand name for a recycled elastane fibre produced by the Japanese company Asahi Kasei. Since it's a recycled source of elastane - it's a better option for adding stretch to the denim.
LEATHER AND OTHER FIBRES
Leather is a durable and flexible material created by tanning animal rawhides and skins. All the leather we use is by-products from the meat industry. Due to the process it takes to create the finished material, many different varieties and qualities are possible to be obtained. The required processes in tanneries could be both chemical and environmentally stressing. For us, leather is a high-quality product that needs to be valued over time. We are members of the Leather Working Group (LWG), who helps us to improve the processes used in our supply chains and source as ethical leather as possible. At Tiger of Sweden leather is mainly used in our accessories such as bags and small leather goods but also shoes and outerwear.
Rubber can be with both synthetic or natural origin, the synthetic version is petroleum-based, and the natural rubber is from an organic compound. Rubber is used in many different types of products, either alone or in combinations with other materials; the features can also differ hugely with this; mostly, it is a stretchy material with high resilience. At Tiger of Sweden, we use rubber as outsoles.