The fashion industry needs to undergo a fundamental and radical transition in order to start offering products that are sustainable at heart. At Tiger of Sweden, we are committed to taking an active role in this transformation, by working in line with the United Nations Sustainable Development Goal 12 - Sustainable Consumption and Production. Hand in hand with this, we aim to have completed the shift to 100% preferred fibres in all our garments by 2030.

Multiple steps will need to be taken in order to reach this ambition. One important such step is to raise awareness of how materials and garments are produced, in order to fuel design decisions that drive the usage of preferred fibres. Another is to limit production waste and minimise the use of chemicals and water in the production of our fabrics and garments. In doing this, we are gradually taking on an increasing number of initiatives to decrease the environmental impact of our products. Read more about the initiatives below.
Initiatives
Preferred Fibre List
At Tiger of Sweden, we want to make sustainability a priority in relation to every single piece we create. This all starts with the raw materials used to create fabrics – in other words: the fibres. We have designed a preferred fibre list that enables our product team to make sustainable decisions when choosing materials. The preferred categories on the list include recycled fibres, organic fibres and fibres from certified sources. Our short term goal is to have 50% of all the fibres produced for our collections coming from our preferred fibre list by 2023. Due to the long lead times in the production phase, we expect to see the first significant shifts during 2030. The styles which has the fabric from these preferred fibres as majority are labelled as Responsible choice.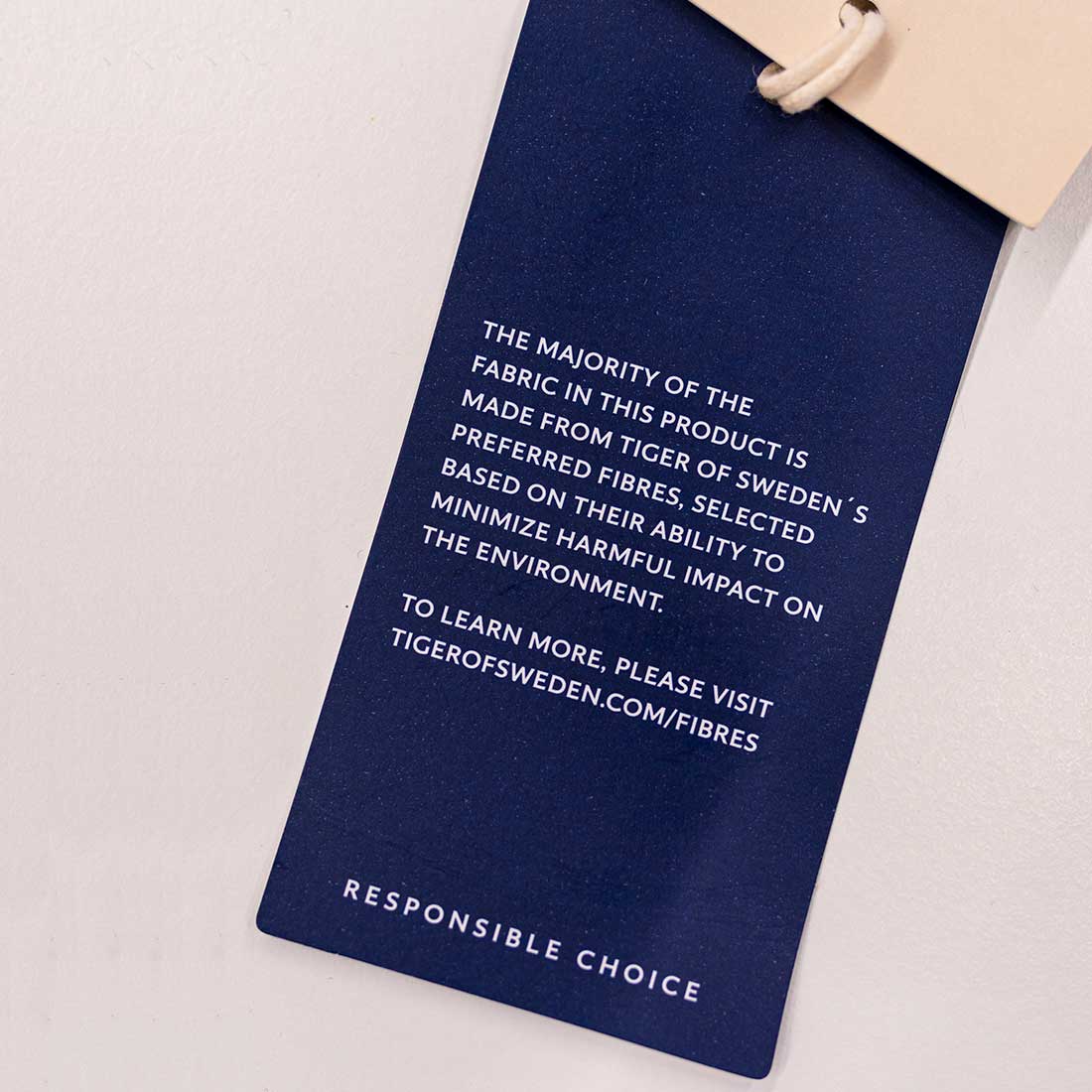 The preferred fibre standard is developed as a guiding tool in sourcing materials and fibres, as well as in measuring our progress towards creating increasingly sustainable products. It is also an interactive tool that will be updated when necessary, for us to be up to date with the latest research and innovations in relation to fibres and production methods. As stated in our current focus areas and actions, we believe that the quality level always needs to be the first priority.
Lowering the quality-level of a garment is to us contradicting our entire journey towards becoming more sustainable. This as an unsold, un-used or low-quality garment is a complete waste of resources. Thus, we always have quality aspects top of mind when sourcing preferred fibres. We want our consumers to cherish the garments that we have created in the same way that we do. Find out more information about our preferred fibre standard
here.
Animal Welfare
At Tiger of Sweden, we stand firm in our belief that production of any materials of animal origin, including wool and leather, needs to be done in a manner which pays respect to the lives and rights of farmed animals. Therefore, we are complying with the Fur Free Alliance conditions and support the Five Animal Freedoms Act, which was put together by the UK government in 1965.



The Five Animal Freedoms Act

- Freedom from hunger and thirst
by ready access to fresh water and diet to maintain health and vigour.

- Freedom from discomfort
by providing an appropriate environment including shelter and a comfortable resting area.

- Freedom from pain, injury or disease
by prevention or rapid diagnosis and treatment.

- Freedom to express normal behaviour
by providing sufficient space, proper facilities and company of the animal's own kind.

- Freedom from fear and distress
by ensuring conditions and treatment which avoid mental suffering.



Leather
When it comes to leather products, we work closely with our partnering suppliers to ensure that materials are sourced from tanneries that are certified through the Leather Working Group whenever possible. The Leather Working Group assesses the environmental impact of leather manufacturers and promotes sustainable environmental business practices.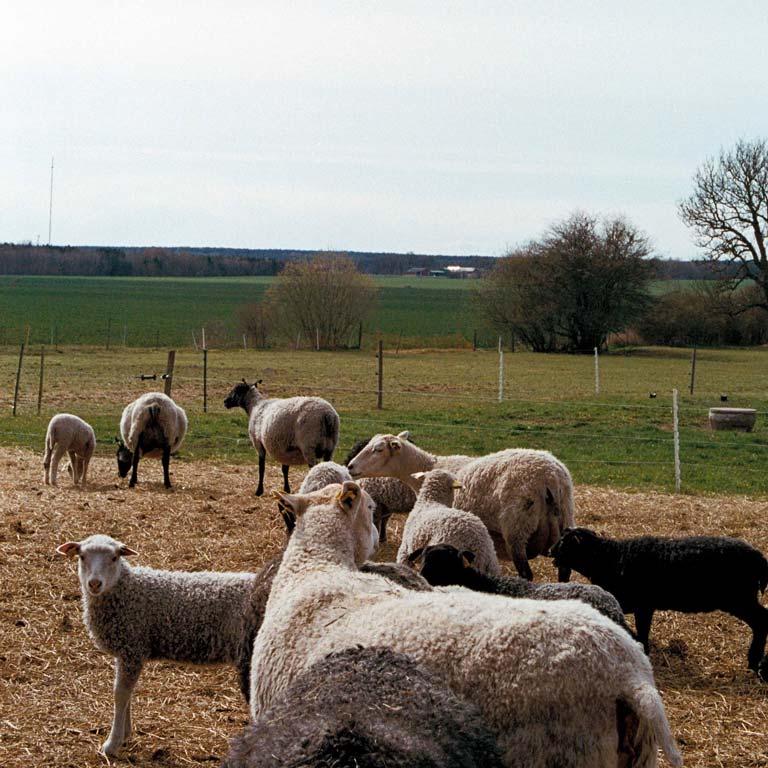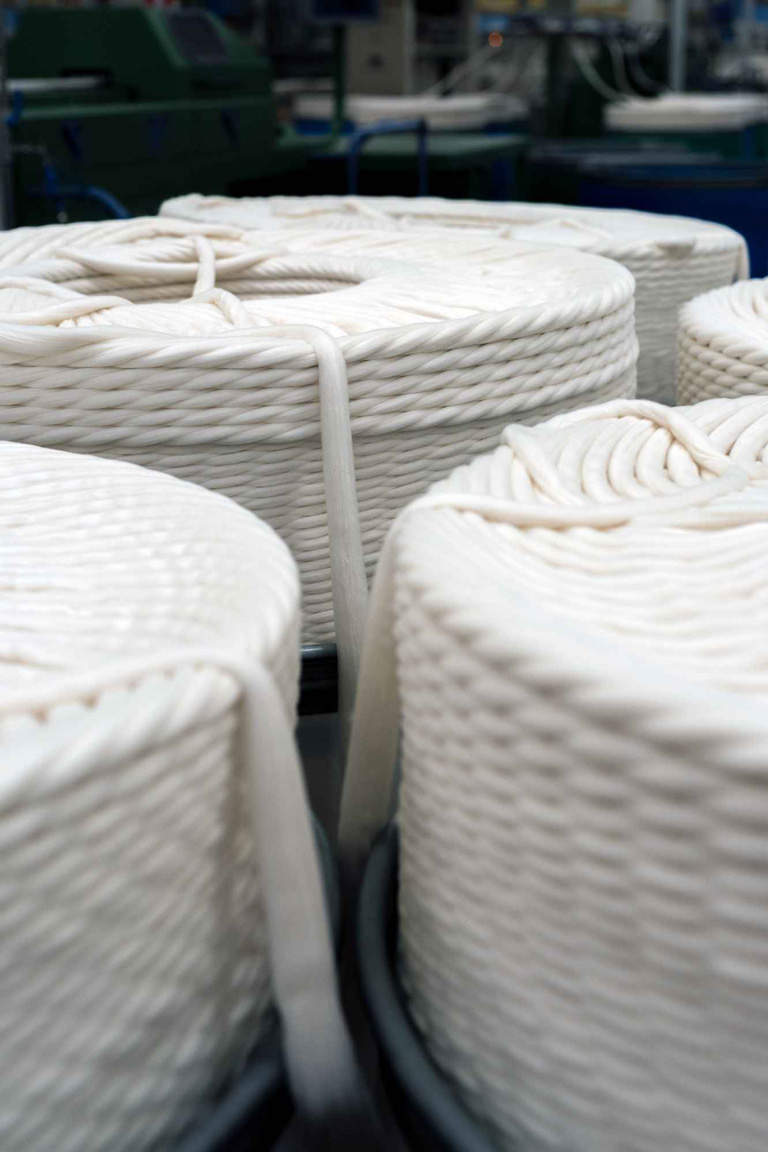 Chemical Compliance
We are committed to reducing the negative impact of chemicals to protect our consumer, employees and the environment. When it comes to our chemical compliance, we work actively with communicating our Restricted substance list (RSL) to our suppliers. The RSL has been created in accordance with current national legislation – which includes the Reach regulation, as well as some further countries' national regulations. This makes our RSL in stricter than the Reach regulation in some cases.
To ensure that our products live up to our chemical restrictions, we conduct risk assessments on all collections, based on high-risk articles, high volumes and supplier history. You will find our
Restricted Substance List here
. To keep us up to date on constantly updated regulations, we collaborate with certified partners such as the Swedish Chemical Group, which is a part of the Swedish research institute Rise.
Via this membership, we obtain chemical expertise and hands-on working tools for the continuous chemical compliance needed. The collaboration also gives us access to a network of companies with extensive knowledge in chemical management. For the chemical testing, we collaborate with another partner called MTS testing lab. MTS supplies us with technical expertise and industry best practices in regards to chemical compliance management.
Our Partners
Better Cotton
We are committed to improving the cotton farming practices globally with The Better Cotton (BC). The Better Cotton connects people and organisation throughout the cotton sector, from field to store, to promote measurable and continuing improvements for the environment, farming communities and the economics of cotton producing areas. The Better Cotton trains farmers to use water efficiently, care for the health of the soil and natural habits, reduce use the most harmful chemicals and respect the rights and wellbeing of workers. Better Cotton is sourced via a system of Mass Balance and is not physically traceable to end products. BC Farmers benefit from the demand for Better Cotton in equivalent volumes to those we 'source. See bettercotton.org/massbalance for details. We are committed to sourcing at least 50% of our cotton as 'more sustainable cotton' by 2023. 'More sustainable cotton' includes BC cotton, recycled cotton and organic cotton.


Swedish Chemical Group
We collaborate with the Swedish Chemical Group to get chemical expertise and hands-on working tools from the Swedish research institute Rise. The collaboration also gives us access to a network of companies with wide knowledge in chemical management.


MTS Testing Lab
MTS Testing Lab supplies us with technical expertise and industry best practices.


Leather working group
Leather Working Group is an environmental stewardship group for all stakeholders in the leather industry – brands, leather manufacturers, chemical and machinery suppliers, traders and industry experts. The group maintains and develops a protocol that assesses the environmental compliance of leather manufacturers, and promotes a sustainable and appropriate environmental business practice within the leather industry.