Together with Swedish furniture company Gärsnäs, Tiger of Sweden is reintroducing Peter Celsing and Erik Karlström's Club chair. The chair was designed as part of the interiors for Filmhuset in Stockholm, a modern brutalist building at the edge of Gärdet in the North East of the city.

The chair is as bold as the building it was drawn for, fusing sharp lines with smooth curves and chromed stainless steel with soft natural leather. With its strong design expression, Celsing and Karlström's piece is a modern yet timeless interpretation of the classic club chair.

Limited Edition - Please contact us for order enquiries
"Most people describe Peter Celsing as a brutalist architect, but I think this is somewhat misleading. To me, his buildings are incredibly beautiful and I see a great humanism in the way he designed. The clearest example must be Kulturhuset (the House of Culture & City Theatre) in Stockholm. A building that provoked heated objections as it was being built, but that has grown to be incredibly important to the city.

The same humanism is evident in the interiors and furniture that Celsing created. To be able to reintroduce the Club chair that he designed together with Erik Karlström for Filmhuset (home to the Swedish Film Institute) is both humbling and exciting. The building is an important modernist masterpiece and the chair is a timeless classic in its own right.''

– Christoffer Lundman, Creative Director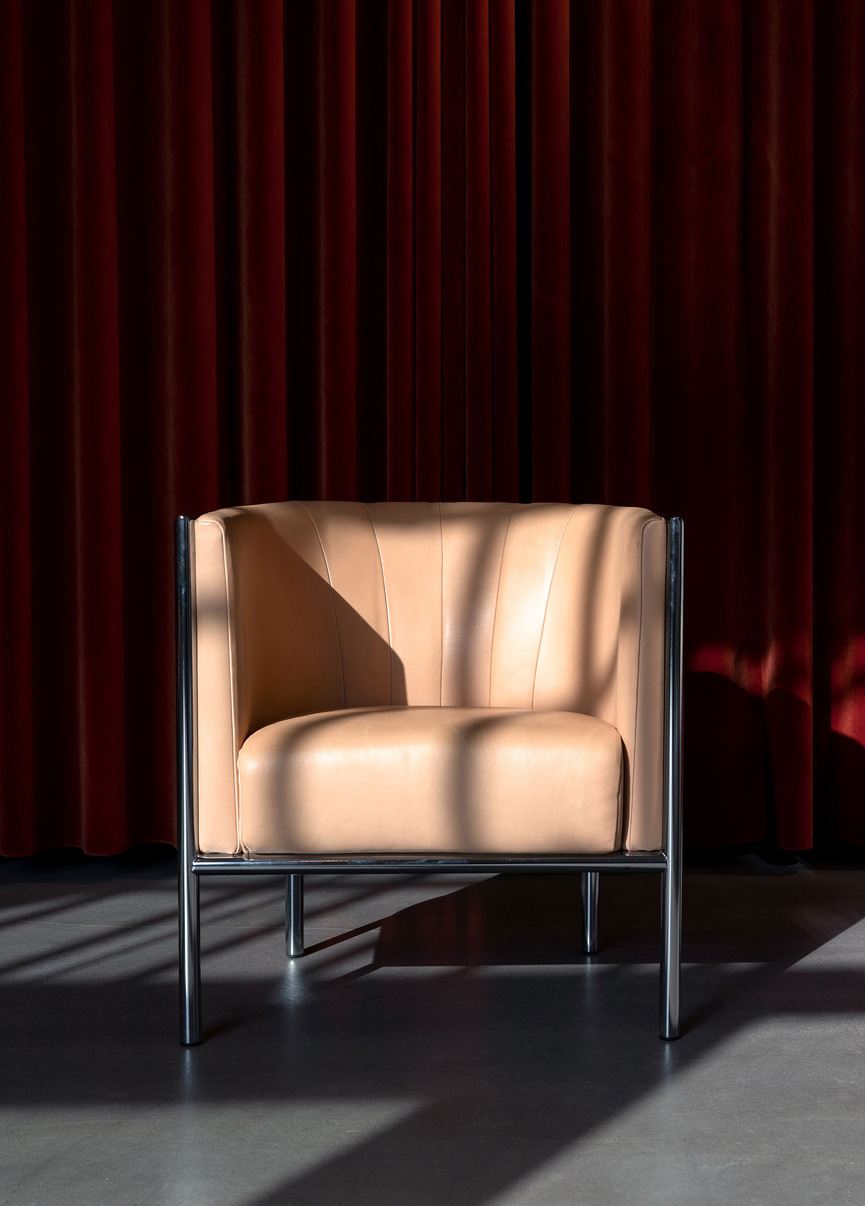 Information produit
Cadre: Acier inoxydable chromé.
Tapisserie: Cuir tanné naturellement de la tannerie Tärnsjö.
Produit par Gärsnäs AB à Gärsnäs, Skåne, Suède.
Made in Sweden.
Des mesures
Largeur: 66 cm
La taille: 70 cm
Profondeur: 63 cm
Hauteur du siège: 38 cm
Prix
3 499 € TVA incl.
S'il vous plaît nous contacter pour les demandes de commande
Tärnsjö Tannery
Over the last 140 years, Tärnsjö Garveri has mastered the art and craft of vegetable tanning and saddlery. Founded in 1873 in Tärnsjö outside Uppsala, the company still employ the tradition of vegetable tanning, using bark extracts and water to create leather of the finest quality. The tannery is among the remaining 5% of tanning houses worldwide who still employ this method, which is more time consuming, but respects the environment.
The leather used for this chair is a premium natural vegetable tanned leather that with correct care and maintenance will age gracefully, developing a beautiful patina with use over time.