Suit guide for men and women
We are passionate about creating modern interpretations of classic suits for men and women. Honouring our design heritage of over 120 years, we design timeless staples that will last you a lifetime. To ensure you get a tailored fit we have created this guide with our best advice to find the perfect suit for you. Below, you can learn how to wear a suit, and read about different fits and styles to create the perfect suit fit for any occasion.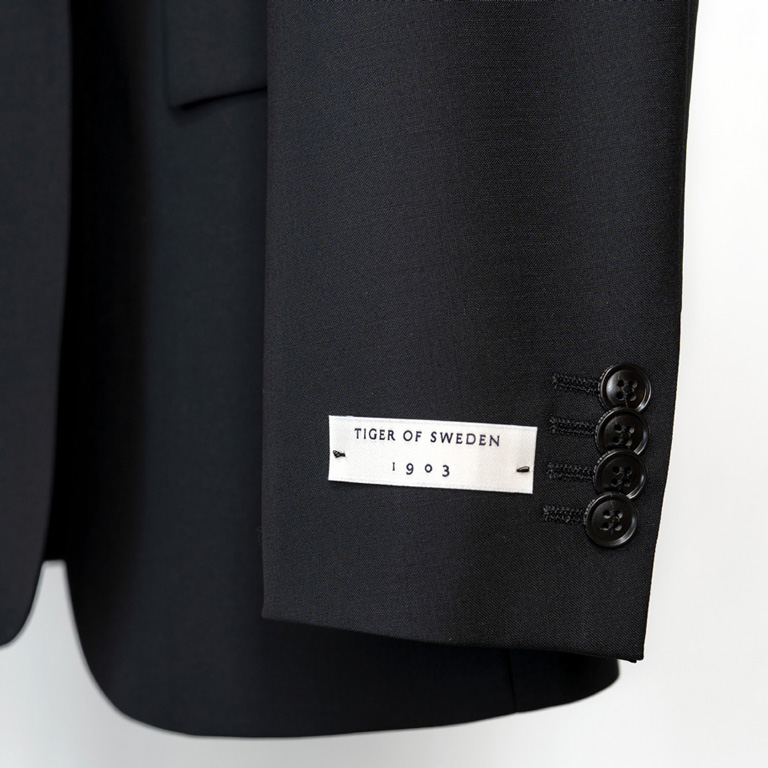 What are the different types of suits?
Honouring classic tailoring principles, we draw from our design heritage to create contemporary tailored fashion pieces and offer a wide range of
suits for men
and
suits for women
in diverse fits and styles. The suits are available in slim, semi-slim, and regular fits. Our jackets are made with comfort and style in mind and include either single-breasted or double-breasted designs. To add a personal detail, you can choose the lapel that defines the formality of your suit. Read more about the different types of suits and suit measurements below. Or browse our models for men and women, as well as our unisex suits and tuxedos.
Suit Fits
The most important details to consider are suit size and suit fit. For both men and women, designs include slim, semi-slim, and regular fits. What's the difference? A slim-fit suit creates a modern tailored silhouette. A semi-slim fit can offer more room and be worn to special occasions and business meetings. A regular fit provides a neat silhouette while offering enough room for movement and comfort, making it a great alternative to a slim-fit suit. The different silhouettes relate to your body type and what kind of look you want. Besides the fit of a suit, you should always consider your own measurements. We have created a
measurement guide
for both men and women. Of course, if you visit us at our Tiger of Sweden stores, we can take your measurements there to help you find the perfect fit.
Suit Lapels

The three most popular lapels are the notch lapel, the peak lapel, and the shawl lapel/collar. The notch lapel is a V-shaped indentation and is the most classic and versatile design, which can be worn for various occasions. The tip of a peak lapel points upwards, adding a stylish detail to your suit. It is typically worn at semi-formal events. If you are looking for a suit to wear at a formal event, a peak lapel or shawl lapel are most appropriate.
Breasted suits

Another essential detail to consider is the buttons of your suit since suit jackets are either single-breasted or double-breasted. Single-breasted jackets are the most familiar and can be styled with notch, peak and shawl lapels. If you want to opt for a more formal version, a double-breasted suit is ideal. It is designed with a wider fabric overlap at the front and has two rows of buttons.
And remember, always leave the lower button of your suit jacket open.
Tuxedos
If you are attending a formal event or want to make a statement for a special occasion, you should consider choosing a tuxedo instead of a suit. Traditionally, tuxedos have a satin lapel, striking buttons, pocket trim and a satin stripe down the leg of the trousers. They are historically worn with bow ties or waistcoats, making a tuxedo the best option for a black-tie event where you want to stand out with a sophisticated fit. Find our finest selection of
men's tuxedos
or our first
unisex tuxedo
.
Size of suits guide

Suit size and the fit of your suit are the most important details, and as explained, you can choose between slim, semi-slim, and regular fit. However, great attention to detail is needed to compile your best suit look.
In general, make sure that both the jacket and the suit pants fit perfectly, draped closely to your body. For instance, the jacket should fall flat on your shoulder, and the jacket collar should rest against your shirt collar. The pants should fall directly onto your shoe.
Using a measuring tape, you can find your perfect suit measurements with ease. But to ensure that you look your best on any occasion, we have collected the best advice on how to wear a suit for the perfect fit and suit size.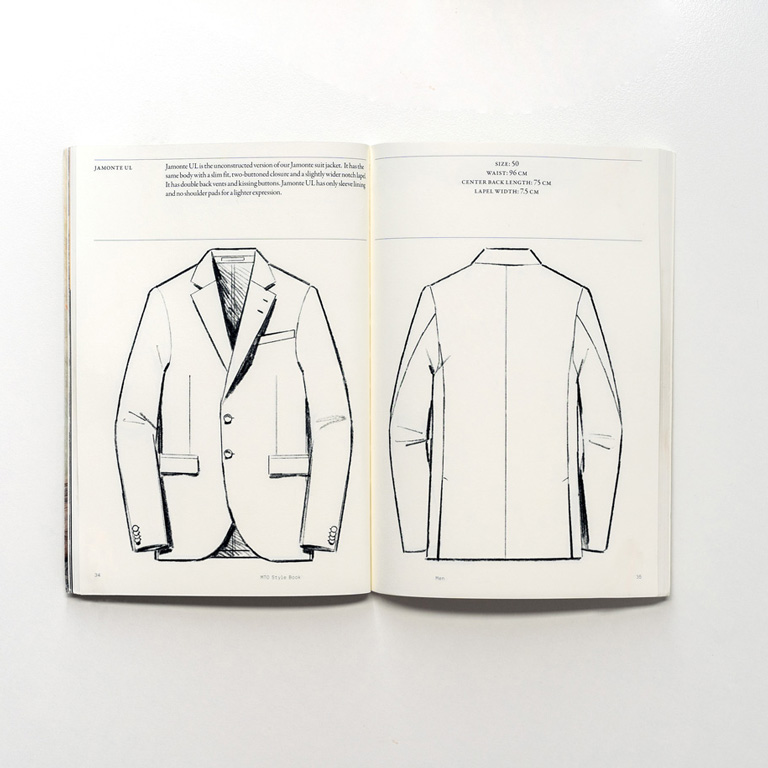 How to wear a suit jacket

For women, the jacket length will vary based on style and preferences. For the most flattering fit, we recommend that the jacket of your suit and the bottoms of its sleeves do not end at the widest point of your body (e.g., your hips). Combining a buttoned shirt with your jacket is also optional. A silk blouse or a shirt can also make for an elegant outfit. For a more professional look, however, we recommend long sleeves.
For men, the jacket should sit comfortably on your shoulders, and the length of the jacket should leave a gap for your buttoned shirt to show. About half an inch of your shirt should be visible. Usually, that means that a jacket should end around the bone of your wrist. A good jacket should fall around your waist and drape along the curve of your back. The hem of the jacket should lay around the middle of your hands.
Finally, wrinkles are a sign that your suit is too loose. Do not hesitate to adjust when needed. The perfect suit fit is the key to an elevated look.
How to wear suit pants

Women should choose the length of their suit pants based on the shoes they wear and the cut of the trousers. Straight- or slim-leg trousers should fall on top of the shoes' heel when measured from the back. Cropped trousers can be a light, airy option in summer. Trousers with a very long leg should only be worn to dress your suit in a casual way. With sneakers, for example. Wide-leg or bootleg suit pants should end 1/4 to 1/2 inch from the ground in the chosen heel height. The rise of the suit pants offers you the flexibility to style your suit to your preference.
Men should wear pants that sit comfortably around the hip without pulling tight or pinching when sitting down. The suit pants should also fall on top of the shoes and contact them slightly. Make sure there is no gap between the suit trousers and your leg or ankle.


Which suits should you pick for a special occasion?

Suits are fashion statements that can be worn on many different occasions. You can wear a suit to formal events like weddings or prom. You can also incorporate a stylish jacket or suit pants into your daily wardrobe.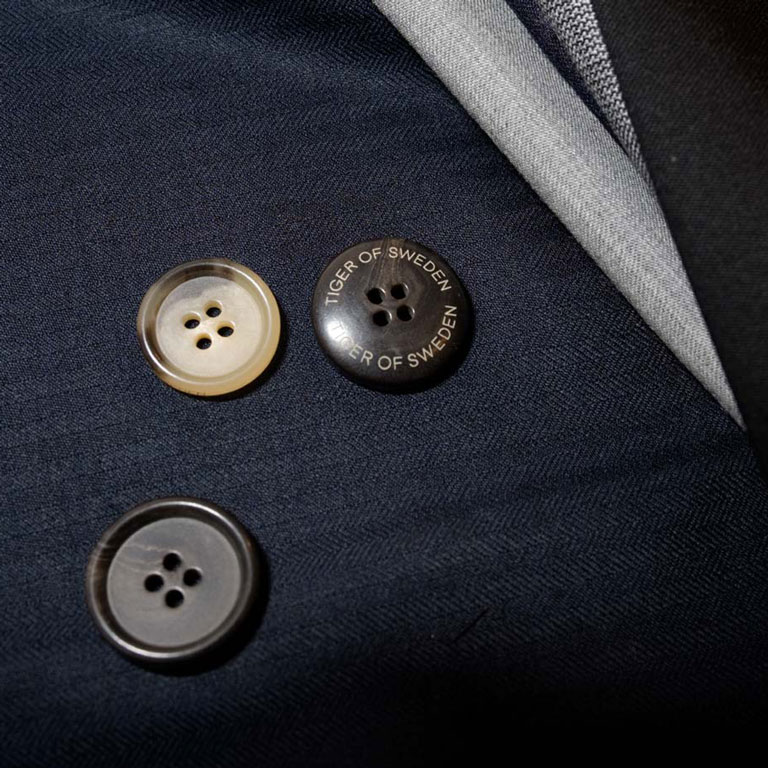 Suits for business settings

In the office and at meetings, the fit of your suit should be aligned with the formality of the corporate culture. For women, we recommend choosing trousers with a matching jacket. You can choose a variety of colours. Navy, black, or grey suits are the most common options for business settings.
For men, we recommend a suit of your preferred fit that is single-breasted with a notch lapel. You can add a colourful tie to elevate the outfit and add a personal touch.
Suits for a wedding

A wedding is a time to shine and show everyone your best look.
As a guest, men can opt for a classic fit with a notch lapel or even a tuxedo if the dress code is black-tie. Women should feel free to choose a colourful suit for a modern twist on tradition. Opting for wide-leg trousers that pair the suit nicely with high heels makes for an especially elegant look.
The groom's suit should align with the bride's wedding dress, the formality of the celebrations and the location of the wedding. The most popular option amongst grooms is a semi-formal tuxedo for a black-tie celebration. Adding a compatible bow tie rounds it off.
Creating a casual suit look

Suits are a dependable wardrobe staple for your everyday attire. We recommend an unconventional, oversized fit for a casual outfit or pairing a single-coloured oversized suit with a t-shirt and sneakers to create a contemporary Scandinavian look. You can also wear your suit jacket with jeans or your suit pants without a jacket for a casual but stylish outfit.
Should you have more than one suit?
No one suit fits all. They come in many different lengths, fits, colours, and styles, and it is essential to find a model that suits the various occasions in which you find yourself. As well as the formality and seasonality of these events. Therefore, we recommend you invest in wardrobe staples to complement your suit, learn how to style a suit for a unique look, and add personal touches to your collection of suits.
Suits are also durable, and if you take good care of them, they will last a lifetime. To read more about taking care of your suit, we created this
tailoring care guide
.
Discover suits for men by Tiger of Sweden
At Tiger of Sweden, we offer a wide range of suits for men. Relying on classic tailoring principles, we create modern wardrobe staples and offer suits in black, white, grey, beige, navy and green. Our suits come in slim, semi-slim, and regular fits and are usually designed with a notch lapel. You can, however, also find designs with a peak lapel. Most of our jackets are single-breasted, but you can also find unique double-breasted designs. We guarantee each garment has our Tiger of Sweden DNA by creating all patterns in our Stockholm studio. Nothing is left to chance. Our signature slim-fit jacket, Jerret, for example, features a soft construction yet sharp silhouette with a narrow notch lapel and a single-breasted design. The Justin Jacket, on the other hand, is a regular-fit jacket in a modern silhouette with classic details and a wide-notch lapel. Have a look at our full collection of
men's suits
.
Summer suits for men
In summer, you should choose a lightweight suit that leaves enough room for summer air to flow through your suit jacket. The material should be made from soft fabrics like linen, cotton, or viscose, and we recommend choosing a light colour for summer. Explore our
lightweight suits for men
.
Winter suits for men
In winter, the optimal suit is made from a thicker fabric that retains heat and keeps you warm, like a suit made from wool, cashmere, or tweed. It would be best if you also considered deeper tones for winter, such as dark green, cognac or plum. Explore our
wool suits for men
.
Discover suits for women by Tiger of Sweden
Building on our years of experience crafting tailored fashion pieces for men, we apply the same classic principles to create the perfect styles for women. At Tiger of Sweden, we offer suits for women in many different lengths and cuts. Our suits come in neutrals such as black, white, grey, and beige, as well as a range of other seasonal colours.
We also design suits for the office, formal events, everyday attire, and suits with fresh twists. In addition to wardrobe staples with a classic fit and a notch lapel, you can also find models with cut-outs, short sleeves and more.
There is no limit to your creativity. Our Narina Jacket, for instance, is a regular-fit jacket with a classic yet modern, single-breasted silhouette with a notch lapel and single-button closure. The Elwira, on the other hand, is a double-breasted jacket featuring an oversized silhouette and a single button for an asymmetric aesthetic. The Mirja suit is an extra slim-fit model with a single button made from organic stretch cotton.
Please find our full collection of
suits for women

.
Summer suits for women

In summer, women can choose from wide-leg trousers, cropped suit pants and pencil skirts for a comfortable and effortless look. Leave the jacket at home and style your suit pants with a light summer blouse or a T-shirt if appropriate. We recommend choosing a suit made of linen or merino wool to ensure breathability and comfort during hot summer days.
Winter suits for women
During colder seasons, women should consider full-length suits made from a thicker material, like wool, that keeps you comfortable and warm. Leave your high heels behind and pair your suit with compatible boots. Complete your look with a warm, elegant winter coat to elevate your outfit.
We hope this suit guide helps you find the best fit and style for your suit. Combining craftsmanship and timeless designs, we strive to create modern suit looks for any occasion and wardrobe staples with contemporary twists that can last a lifetime. Explore our suit care guide to find out how to take the best care of your suit and its fabric. With a range of styles and lapel designs, you can find your perfect fit at Tiger of Sweden. Explore our collection of
suits for men
and
suits for women
here online.