Born from Ethiopian parents in Germany, Sara Nuru started working with Non-Governmental Organization Menschen für Menschen (People for People) at the young age of 20. Since then, she and her sister have founded the social business "NuruCoffee", which support microloans and education for women through fair trade coffee sales, but also connecting them both back to their African roots. To build the future, Nuru believes we have to live more in the moment, embrace the fact that things rarely work according to plan, and to know that whatever your identity starts with; the way you look or how you make a living, it is only defined by you.
Why don't you describe in your own words what you do?

I started my own business together with my sister. We created a social business called NuruCoffee where we import coffee from Ethiopia, sell and then invest in microloans.
Would you say it's humanitarian work first, or a business?

Good question. Our goal is to do business by doing good. By changing the economics in Ethiopia. Not just by donating money but doing business in a new direction and with a new perspective. We want to show not just Ethiopia, but Africa from a new side. A lot of people don't know that coffee comes from Ethiopia, from a small area called Kaffa.
I was just going to ask, why coffee?

Yeah, people often ask because it's such a competitive business. We had two reasons. First, we wondered what we could do to show Ethiopia from a new perspective and coffee is their biggest export. But people are usually more focused on the coffee, how to roast it or how to drink it, and most people are not aware of the process behind it, what happened before the coffee arrives in Europe. We want to show the producers. Who the farmers are. How much work is behind a cup of coffee. When you start with an awareness, you also value the product. That's the first step for change.
So you started this a couple of years ago right?

Yes, and the goal is also to invest back. Especially women projects, and women in the rural areas who usually don't have access to the coffee industry. So that they can create their own businesses.
Did you feel like you've made a difference?

Of course. When we went back to Ethiopia to meet with the women who are actually benefitting from our work, it's was so inspiring to see how a microloan will change the life of a woman. It is a financial change, but it's more the self-determined life of the women. They are confident because they create their own business. They are able to stand up for their rights and are completely independent. My mother came to Germany because of a lack of perspective, and knowing that I and my sister can give something back is really nice. At the end of the day, these women, like us, want to live a strong, independent, confident life.
What's it like working with your sister?

It's funny, sometimes we hate each other. We're unfiltered and honest, but we share all the success and all the failures, you know that you're not doing this by yourself. Especially when you're building something like a start-up, you have so many doubts, it's nice to have someone by your side.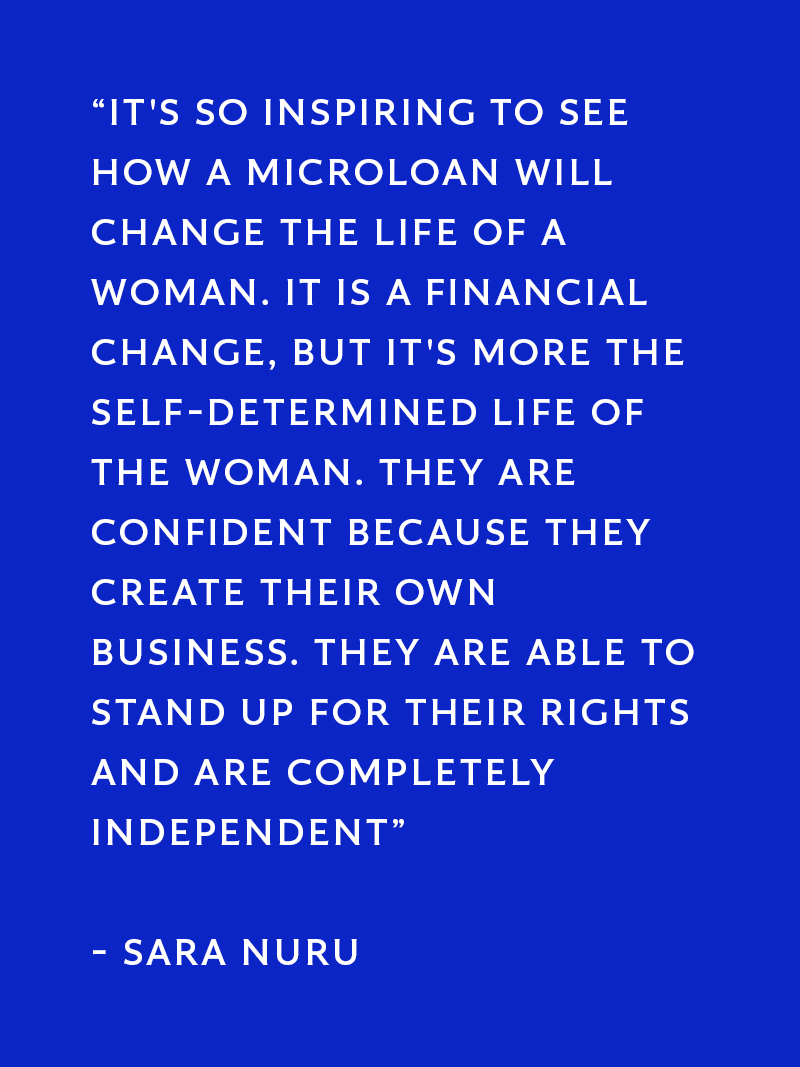 So what's an entrepreneur to you?

Well, it took me a while to call myself an entrepreneur because I thought other people have to give me permission. Or that you have to have a certain amount of employees or something like that. But no one else can give you permission, you can just say it. It doesn't matter how much other people admire you, you have to feel it yourself.
How would you define an entrepreneur then?

I would define an entrepreneur as someone who keeps doing their job. Waking up in the morning and willing to go further. People who dare and are not afraid of failure.
What keeps you going?

The deep willing to focus on my goals. It's not just about me. It's about giving back and a deep gratitude about the life I was given.
What kind of advice would you give your younger self?

Relax, first of all. And also, you don't have to be good at everything. It's not a weakness to ask for help.
Modern Movement / Sara Nuru / Get The Look